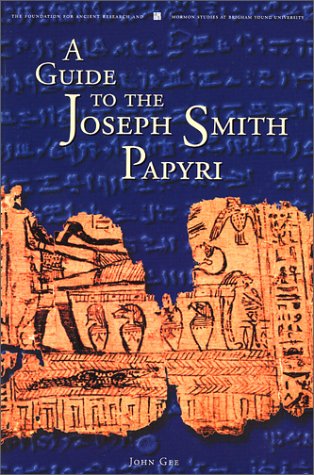 MISSIONARY:
Here's a special little book written by an actual Egyptologist that explains how the papyrus Joseph Smith had was really the Book of Abraham written in Egyptian hieroglyphs.
INVESTIGATOR:
Cool. Does it answer the question about Facsimile 3 and how King Pharaoh's name is in the writing when it's really not?
MISSIONARY:
Well, I don't think it goes into a lot of detail or answers all the questions. But it provides everything you need to know about the papyrus. It gives a real good description of the papyri and who wrote them. It's all in there.
INVESTIGATOR:
Does this book tell us the name of the king written in the characters of Facsimile 3?
MISSIONARY
: I don't know for sure on that. I'm pretty sure his other book
"AN INTRODUCTION TO THE BOOK OF Abraham"
gets into more details. It's written by a world-famous Egyptologist and he's written a lot of stuff on this subject.
INVESTIGATOR
: Cool, I think this is interesting. Hey, look, it says here that men dressed up as women. Is that why King Pharaoh is a woman in Facsimile 3? It still doesn't explain the missing name. You mean it's okay for men to dress in drag in your church?
MISSIONARY:
The Church teaches that we are supposed to dress appropriately according to our sex.
INVESTIGATOR:
Well, I can see that Joseph Smith was not telling the truth about King Pharaoh and the name in the characters. And I don't think Egyptian kings dressed up like women. I don't believe it. Do you?
MISSIONARY:
I know that Book of Mormon is true and that Joseph Smith translated the Book of Abraham even though we don't understand everything about it.
INVESTIGATOR:
Well, that's all well and good but I don't believe Facsimile 3 and there is no way that's right. Is that going to be a problem with getting baptized?
MISSIONARY:
We need to get back with our Mission President on that one. In the meantime keep praying to know the truth for yourself and Heavenly Father will bless you.