Doctor CamNC4Me

wrote:

↑

Mon Sep 11, 2023 11:11 pm

I await your masterstroke with baited breath, mon ami.
The
Ace of Hearts
is a dagger in the heart of the Mesoamerican model/theory.
All in due time.

------------------------------------------------------------------------------------------------
In the meantime
As a side note, it's interesting to compare how Old World geography of an imagined river in NW Arabia foreshadows the story of the Sidon river in the promised land whereby a
valley
&
river
are part of the story:
1) Lehi left Jerusalem and travelled into the wilderness bordering the Red Sea to offer sacrifice
1 Nephi 2:6 wrote:...in a  valley by the side of a river of water.
2) Captain Moroni left the land of Jershon and led his army to meet the Lamanites in battle
Alma 43:41 wrote:...in the valley which was near the bank of the river Sidon.
There may be a rare stream in NW Arabia but there are no rivers leading into the Red Sea as the text claims:
"He called
the name of the river, Laman, and it emptied into the Red Sea; and the valley was in the borders near the mouth thereof."
Only in the imagination of Joseph Smith and creative old maps in which he may have seen gave him license to romanticize Arabia in suiting his own fancy.
This map is no more accurate than the one described in the Book of Mormon which gives us the impression that Arabia had rivers: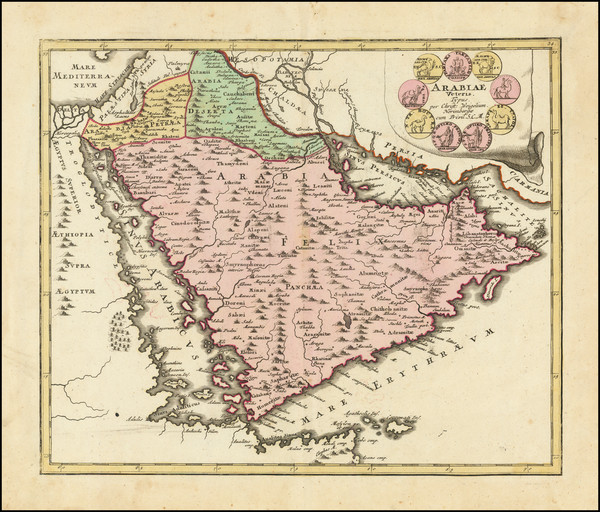 For the record:
Wikipedia wrote:Saudi Arabia is a desert country with no permanent rivers or lakes and very little rainfall.

Yemen is so dry that it doesn't have any permanently flowing rivers—only dry river valleys known as wadis.

There are no perennial rivers in Oman. A small number of wadis (shallow watercourses) are found in the Al Hajar Mountains and their foothills, however.
Of course, this does not bode well for Lehi's river Laman or Bountiful for that matter!