As you know from prior postings, I and my colleague, consiglieri, have been unfolding the ancient origins of the doctrine of the Serpent and the mysteries of Mehen. Our evidence and arguments point to the existence of strong connections between Joseph Smith's revelatory scriptures and ancient Egypt. This must be a real blow to all of the critics, who for so long have looked askance at Joseph Smith's works as base imposture. Well, today I am going to expand the field a bit into the area of the ancient writing systems themselves.
We will focus in particular on the hieroglyphic system of the Mi'kmaq of Nova Scotia, which was brought to the attention of the West by the Franciscan missionary, Father LeClercq, in the late seventeenth century:
The Mi'kmaq have a system of hieroglyphic writing just as the Egyptians did. Here is the Lord's Prayer rendered in the Mi'kmaq system of writing:
Some scholars have noticed the similarity between Mi'kmaq hieroglyphs and some ancient Egyptian ones: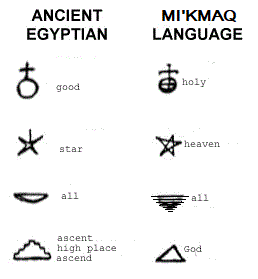 Some folks have even noticed the overlap between Mi'kmaq hieroglyphs and the Caractors document formerly known as the "Anton Transcript":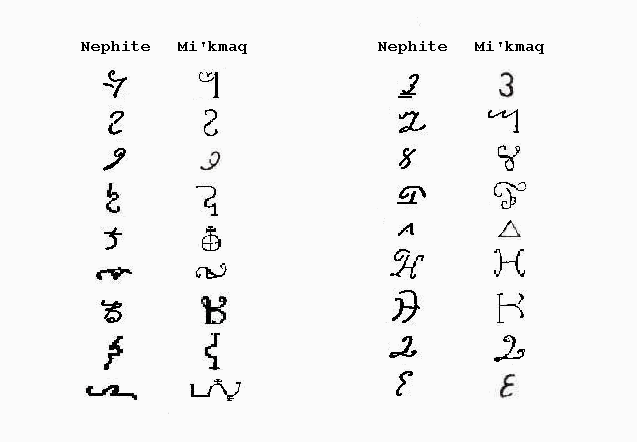 Of course, we would expect Mi'kmaq to be closer to Nephite than Egyptian because the Mi'kmaq are obviously descended from the Nephites and closer to them in time and geography.
What most may have missed, however, is William Phelps' dependence on Mi'kmaq when he restored the Adamic name of God with its Adamic hieroglyph: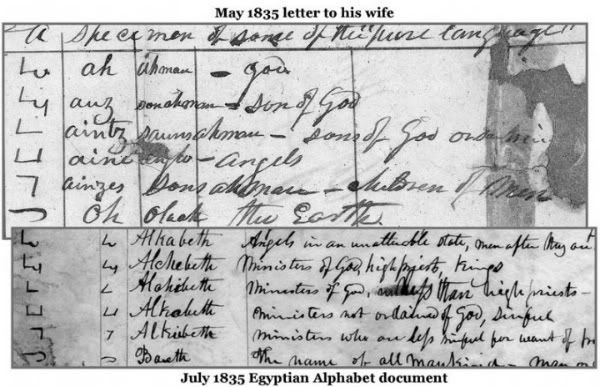 Compare the character for "Ahman" or God with the Mi'kmaq hieroglyph for "Our Father" at the beginning of the Lord's Prayer document above. The two are sufficiently close to hypothesize a relationship between them. I suggest that Joseph Smith, William Phelps, or both, knew the Mi'kmaq character and the significance of the Mi'kmaq system of writing, and decided to use it in the restoration of Adamic.