Many of you are now aware of the stunning scholarly revelations showing that John Dee and Edward Kelley, Elizabethan wizards, translated the Book of Mormon and communicated the results to Joseph Smith through his seer stone. Although critics and Mopologists alike will resist these important new findings, they will inevitably be accepted as the new status quo, when the realization that this is the only truly parsimonious explanation for the English archaisms in the book is finally embraced.
In the meantime, those of us who have not been blinded by fear and prejudice will forge ahead in our exploration of the profound implications this discovery has for our interpretation of Joseph Smith's work, the Book of Mormon, and Mormonism itself. In that spirit, I offer you a visual hint that Dee anticipated, and may have been planning for, his task of communicating hidden truths to Joseph Smith over two centuries later.
Observe the following:
The above symbol is John Dee's secret code name which he used in his "eyes only" communications with the Queen. The two circles stand for Dee's eyes, which represent his function as intelligence agent for the throne. Of course, given his occult interests, these circles probably also referred to his pursuit of supernatural vision and the philosopher's stone.
The long bar on the top, which looks like a square root symbol, may very well be an elongated seven. So, there we have it. 007. This would later be used as the codename for the James Bond character. But, we need to think of its occult significance. 7 is obviously a magical number indicating divine perfection. So the supernatural vision of Dee seeks after divine things.
Consider this too, however. Could it be that John Dee, having achieved that vision of the future, saw his 19th century working partner Joseph Smith receiving the translation?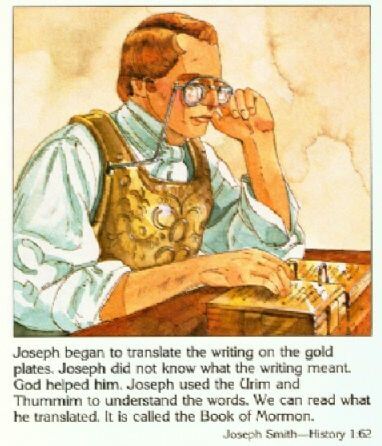 That's right, the famous spectacles that were buried with the plates, which later came to be known as the Urim and Thummim. Might it be that John Dee had seen these spectacles through his second sight, and that he yearned to recover them? Only after death would he work with Joseph Smith using this instrument to communicate with him and Edward Kelley in the process of transmitting the Book of Mormon.